5 Benefits of an Electric Wheelchair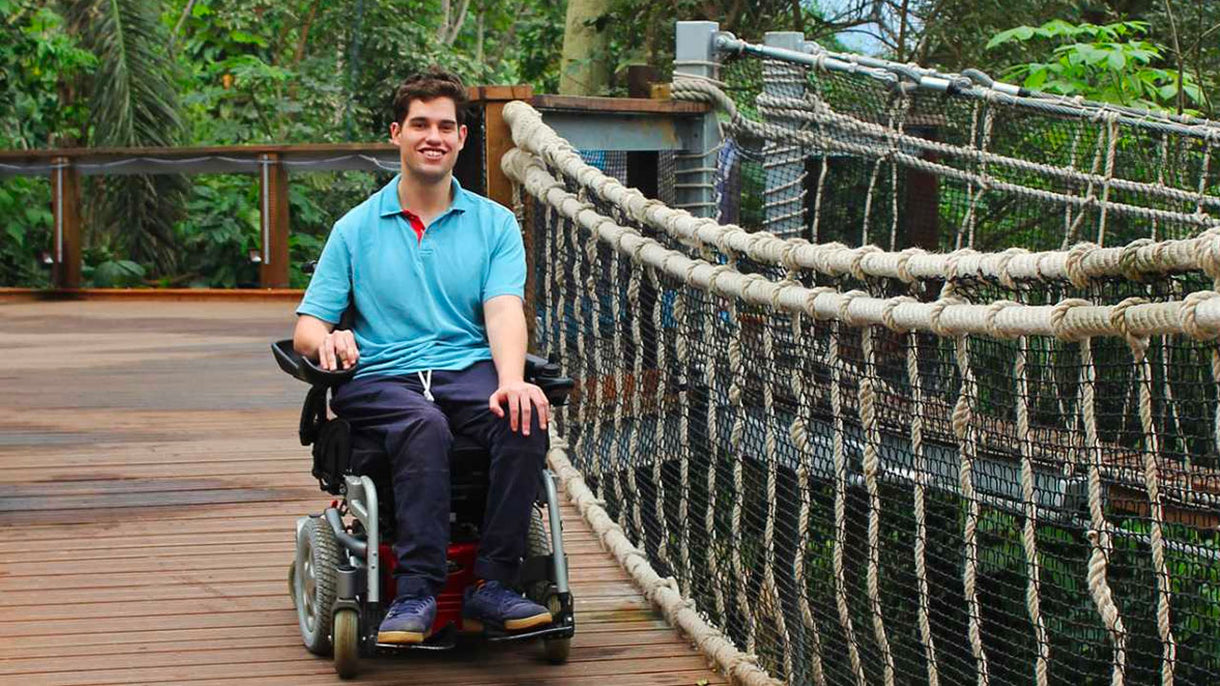 Electric wheelchairs allow users to experience a degree of independence that simply wasn't possible in years gone by. By providing extreme comfort for those who cannot stand or struggle to stand for long periods, our extensive range of electric wheelchairs offer the perfect solution.
Here we share five benefits of electric wheelchairs that may sway your purchasing decision:
1. Suitable for all
No matter your weight or height, here at mobilitypluswheelchairs.co.uk you will be able to find an electric wheelchair to suit your needs.
The power chairs we offer are adaptable to the severity of any disability, with a simple-to-use joystick for comfortable control movement. Many offer adjustments for height, tilt, recline and leg space too.
For users who may not have the upper body strength to push manual wheels, an electric wheelchair means they are not limited to taking short trips out.
2. Make more places accessible
Electric wheelchairs can be used indoors or outdoors, providing constant support for people who need them throughout the day.
Powered chairs also offer a tight turning radius which means they are ideal for negotiating smaller spaces.
You also have freedom to reach heights you may never have thought possible in a manual chair. Steep inclines are instantly easier to access and the same goes for tricky terrain, which may deter users from taking a certain path.
We offer a series of electric wheelchairs which are designed with a 16-inch rear-wheel drive system to offer a smooth ride on ramps and hills.
3. Effortless transport
Many electric wheelchairs are lightweight making them easy to get out of the car. We sell fold-up power wheelchairs that disassemble effortlessly.
Our MobilityPlus+ power chair is perfect for transporting in all forms of vehicles. These wheelchairs are supplied with a lead-acid battery, as opposed to a lithium battery, which means they are perfectly safe and legal to take onboard a plane.
4. A safe option
As the centre of gravity is much lower with an electric wheelchair, this means it is far less likely to tip over than a manual chair. Accidental rolling is avoided as braking and movement on rough terrain is far easier.
We are so confident in our powered wheelchairs that we offer a comprehensive one-year warranty for additional peace of mind.
5. Increases confidence
With no tricky controls, the wheelchairs we sell are easily operated with a simple joystick.
Our powerchairs require only the lightest touch to be operated and can be easily adjusted to ensure the user is extremely comfortable for their duration in the seat.  
And there's no need to worry about getting stranded whilst out and about, as our MobilityPlus+ power chair can reach maximum speeds of 4mph and travel up to 15 miles on a fully charged battery.
Here to help
Now you've learned more about the benefits of an electric wheelchair, you may wish to use, trial, purchase or upgrade one. Our experienced customer services assistants can help you pick the perfect model from our wide range, so contact us today.
Related Articles

31/03/2022

|

3min read

|

2
What is the best electric wheelchair for cruising?
Your bags are packed and you're finally ready to set sail for some summer sun. But how will you take your power chair with you?...
Read more

20/12/2019

|

2min read

|

0
MobilityPlus Wheelchairs target global reach with Naidex2020 appearance
Here at MobilityPlus Wheelchairs, we are really excited to share our news that we will be exhibiting at Naidex 2020. Europe's most established event dedicated...
Read more

08/06/2019

|

3min read

|

0
How to Find the Right Electric Wheelchair
If you've made the decision to opt for an electric wheelchair over a manual one, it may seem like a complete minefield knowing which one...
Read more