How to Find the Right Electric Wheelchair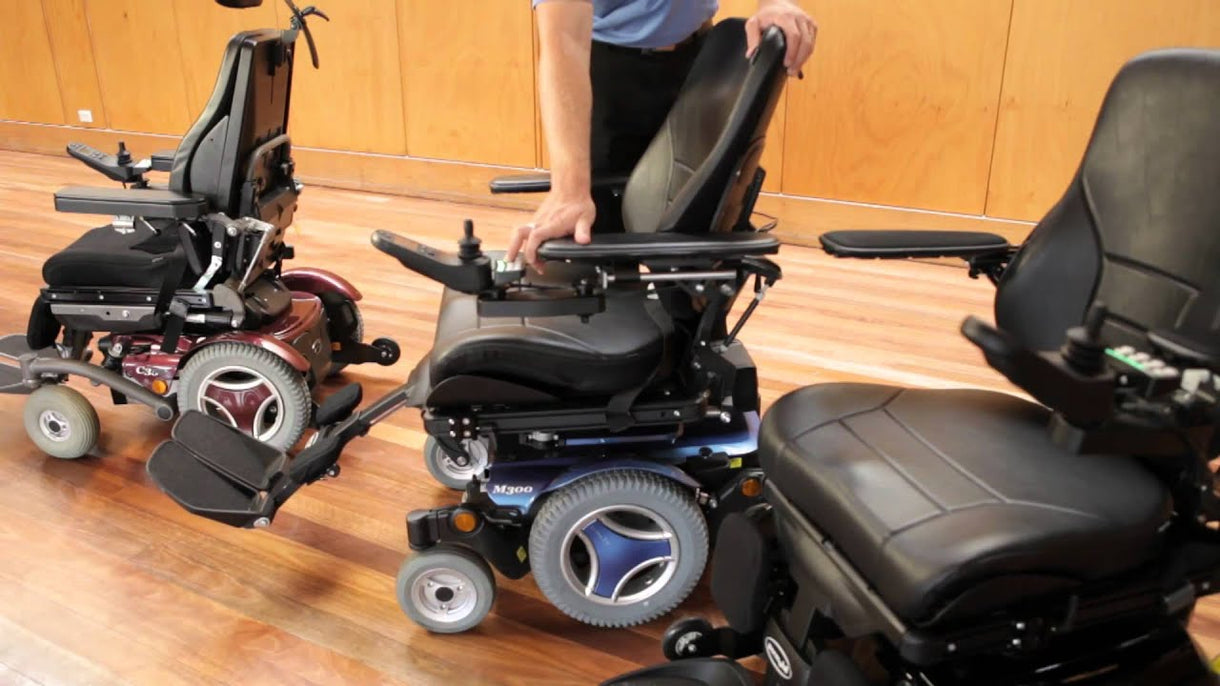 If you've made the decision to opt for an electric wheelchair over a manual one, it may seem like a complete minefield knowing which one to choose. As they require minimal mobility and effort to steer and operate, they are well suited to individuals with limited use of their hands, arms and legs. But with hundreds of options when it comes to battery life, speed, weight and ease of control, how do you pick the right one for you?
Here at MobilityPlus Wheelchairs, we've put together some pointers to help you make the best decision:
Where will you use your chair?
The Department for Transport categorises all powered wheelchairs as class 2 or class 3 products:
If you mainly intend to use your chair indoors, you'll need to invest in a class 2 chair. Class 2 chairs are generally smaller and lighter. They can be used on the pavements and have maximum speeds of 4mph.
Class 3 are heavier, larger and can't be dismantled, as they are designed for outdoor use. They must be registered with the DVLA and can travel up to 8mph on the road or 4mph on pavements.
How far will you travel?
Consider how far you would need to travel using your electric wheelchair. One of our powerchairs can reach maximum speeds of 4mph and travel up to 15 miles on a fully charged battery.
Consider your height and weight
The electric wheelchair you choose should be the right size for you ensure your body parts are adequately aligned. But not only that, you need to ensure you can be comfortable for long durations in the chair. Power wheelchairs must allow you to rotate your upper body while you are fully supported. You should be able to sit comfortable with your back straight and hips at a right angle to the floor.
It is essential that your power chair does not limit your movement or cause pressure sores. You need to consider a wheelchair that will allow you to have good posture. For a user who may be missing a limb, this will mean the balance of the chair needs to be adjustable to prevent tipping.
Controls
Choose an electric wheelchair to suit your range of movement and strength. Joysticks are one of the most common control systems that allow great manoeuvrability. Mini joysticks require minimum movement from the user and don't have to be controlled by hand.
You could also think about touch-sensitive computer screens to initiate travel, a finger control system whereby you move your finger the way you want to travel or even switches which can be operated by hand or head.
Storage
Electric wheelchairs should be stored in a dry place where there is access to power to charge the battery. Avoid creating a fire or trip hazard by making sure you can store it without blocking pathways. Chairs stored outside should be protected with a waterproof cover.
Price
Affordability could be a ruling factor when it comes to picking an electric wheelchair but the most expensive is by no means the best. Do some research on different wheelchairs to ensure your budget is in line with your needs. Remember, the electric wheelchair you choose should be a significant investment that should last for many years.
Contact us
If you need assistance to find the perfect electric wheelchair to suit your needs, we can help. If you'd like to test drive one of our highly-rated powerchairs, contact us today.
Related Articles

31/03/2022

|

3min read

|

2
What is the best electric wheelchair for cruising?
Your bags are packed and you're finally ready to set sail for some summer sun. But how will you take your power chair with you?...
Read more

20/12/2019

|

2min read

|

0
MobilityPlus Wheelchairs target global reach with Naidex2020 appearance
Here at MobilityPlus Wheelchairs, we are really excited to share our news that we will be exhibiting at Naidex 2020. Europe's most established event dedicated...
Read more

24/05/2019

|

3min read

|

0
5 Benefits of an Electric Wheelchair
Electric wheelchairs allow users to experience a degree of independence that simply wasn't possible in years gone by. By providing extreme comfort for those who...
Read more